Prices and Availability
Seasonal Charges Breakdown
Cottage

Whippletree

Engine House

Wharfingers

Period

7 days

Short break

7 days

Short break

7 days

Short break

 2nd September - 3rd November 2013

 £480

£370 

 £385

£295 

£370 

£285 

4th November 2013 - 22nd Dec 2013

£410 

£315 

 £330

£260 

£315 

£245 

30th December - 3rd January 2014

£735

£595

£525

£430

£510

£415

4th January - 13th February 2014

£410

£315

£330

£260

£315

£245

 14th February - 23rd February 2014

£495

 £380

£400 

£310 

 £385

 £295

 24th February - 3rd April 2014

£425 

 £325

£345 

£270 

£330 

 £255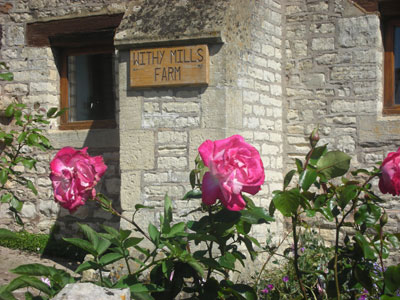 Weekly bookings run from Friday to Friday, or Monday to Monday.   Arrival after 4pm and departure by 10am. Short breaks are available for either a long weekend Friday to Monday - 3 nights, or mid-week, Monday to Friday - 4 nights at the same price as a weekend break..
The above prices are based on four people sharing Whippletree Cottage or two people sharing either The Engine House or Wharfingers Cottage. There is an additional charge for extra guests making use of the settee beds or fold up beds.
Last minute reductions available in Whippletree Cottage for two people sharing.
Please read full details of our terms and conditions before making a booking.
Gift vouchers are available in any sum towards the cost of a stay at Withy Mills Farm. A wonderful gift to say thank you or congratulations. Just let us have the name of the intended recipient and we can send them a gift voucher together with information about their stay, a copy of Bath and Beyond and a local map of the area.
For all reservations a non-refundable deposit of 30% is payable on booking and the balance payable six weeks prior to arrival.
Cheques payable to Mrs D J Lawrence, BACS details available on request.
---